PHASE SEQUENCE INDICATOR
DISC ROTATING TYPE
APPLICATION
Phase sequence indicator is a must for checking new electrical connections, installation and maintenance. It is useful in wiring of switchboards, when 3 phase watt meters and power factor meters are connected. In wiring 3 phase AC motors rotation can be checked and corrected if need be, by checking the sequence.
OPERATION
The instrument is of rotating disc type. When correctly connected to 3 phases R, Y and B the Black disc with white arrow rotates clockwise indicating that the phase sequence is correct. If the rotation is anti-clockwise one of the phases should be reversed.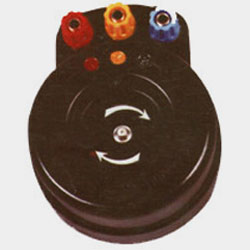 Model: PSI-1
CASING :
Housed in Bakelite Body (round shape) provided with three separate one meter long leads with appropriate colour viz. Red, Yellow, and Blue with clips and PVC sheaths.
Standard Accessories : Rexine carrying case
Working Voltage : 100V to 500V AC at 25Hz to 65Hz
For horizontal use only and should not be left in circuit
Model: PSI-2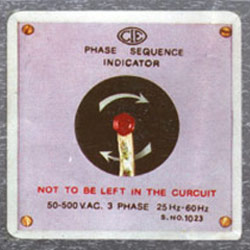 CASING : 
Housed in ABS Moulded square Case supplied with one meter long built in Red-Yellow-Blue leads with crocodile clips
Standard Accessories : Rexine carrying case
Dimensions : 96mm x 96mm
Rating : 30 seconds @ 500 V, Burden – 15VA @ 500 V, Voltage – 50-500V (in horizontal position), 100-500V (in vertical position)
Frequency : 25-60Hz
The instruments can be used in horizontal as well as in vertical position. The instrument should not be left in circuit